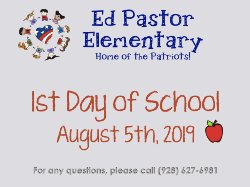 What

First Day of School

When

8/5/2019, 8:30 AM

–

3:40 PM

Where

Ed Pastor Elementary School
School starts on August 5, 2019 from 8:30am to 3:40pm
o The first bell rings at 8:25am and the tardy bell rings at 8:30am.
o Breakfast is served before school from 8:15am – 8:30am for all grades.
o Students, including Kindergarteners, arrive at 8:00am and go to the cafeteria for breakfast.
o Early Dismissal on Monday's for ALL STUDENTS (K - 6th) is 8:30am to 1:40pm.